HTML5 is a markup language used for structuring and presenting content for the World Wide Web and a core technology of the Internet.  Its core aims have been to improve the language with support for the latest multimfedia while keeping it easily readable by humans and consistently understood by computers and devices (web browsers, parsers, etc.). HTML5 is, in a word, the next big thing.  (That was three words.)
Following its immediate predecessors HTML 4.01 and XHTML 1.1, HTML5 is a response to the fact that the HTML and XHTML in common use on the World Wide Web are a mixture of features introduced by various specifications, along with those introduced by software products such as web browsers, those established by common practice, and the many syntax errors in existing web documents.  It is also an attempt to define a single markup language that can be written in either HTML or XHTML syntax. It includes detailed processing models to encourage more interoperable implementations; it extends, improves and rationalises the markup available for documents, and introduces markup and application programming interfaces (APIs) for complex web applications. For the same reasons, HTML5 is also a potential candidate for cross-platform mobile applications. Many features of HTML5 have been built with the consideration of being able to run on low-powered devices such as smartphones and tablets. In December 2011, research firm Strategy Analytics forecast sales of HTML5 compatible phones will top 1 billion in 2013.
So…do you need a WordPress HTML5 theme?  Just in case, we've gathered a bunch that we like right here and we're always adding more, so bookmark us and check back often.  Here we go!
KULA is a beautifully simple, visually stunning, and striking 'One-Page' creative WordPress theme. It looks amazingly awesome on Retina screens (even the icons are 'Retina Ready'), and is perfect to use, from freelancer to agency, and everything in between. The template is fully responsive, and looks amazing on your Smartphone, Tablet, and Desktop. Beautiful typography, gorgeous iconography, subtle CSS3 effects, and those small details that really make you stand out from the crowd.
Avada is a modern looking, clean and flexible WordPress theme that sets  new standards for ease of use, flexibility with great design.   This theme has endless possibilities, top-notch support, and free lifetime updates with newly requested features from our users. And its the most easy-to use theme on the market!

Chita is highly customizable, retina ready WordPress theme that can suit all your needs. Unleash your creativity, show your ideas and thoughts in beautful and eye catching way!
Sigma is a Responsive and Minimalist Portfolio WordPress Theme built with HTML5, CSS3, jQuery and Grid for Creative Agency, Freelancer, Blogger and Business.
A stunning execution of "less is more", the Minimum child theme expresses everything you're about, with very little effort.  Clean, elegant, powerful, unfettered, and uncluttered are a just few words that say… Minimum.  We love the clean look of this theme!
Vibrant and wonderful. Beta is a revolutionary WordPress theme designed to look great, function beautifully and promote you and your business well beyond the webpage. Now, fully responsive, this HTML5 WordPress theme comes packed with features.  With built-in customizable Mailchimp newsletter templates and Facebook landing templates, this theme is truly one of a kind.

Circlus is a creative personal portfolio & vCard HTML5/CSS3 WordPress theme and it's got a really cool, modern design that we really like.
Get your tall bikes here!  Introducing Hipster WordPress, the perfect responsive WordPress theme for any personal or business website brought to you by ThemeForest authors Beantown Design and Fialovy. Hipster's fully responsive design looks great no matter what device you're viewing it on, desktop, tablet, mobile phone, etc. Customize your site with the extensive options panel using over 30 backgrounds patterns, full screen rotating background images, and 2 page layout styles (stretched or boxed). Check out the custom mobile menu that was created for small screens! Hipster is full of premium plugins to build your dream website, tons of page layouts, and oh ya.. did we mention the awesome retro style design?!
SimpleKey is a HTML5 ready, responsive one page portfolio theme. Features include: easy to use shortcodes, advanced theme options, a custom panel for page sections, an Ajax contact form, sample data, and more.
Pluto can be used as a portfolio, blog, corporate or creative template. Talk about flexibility.  Additional pages can be easily created with the existing elements, there are 10 predefined pages already created.  Valid HTML5 and CSS code. 
Kaleidoscope is a minimalist fully responsive WordPress theme with beautiful, strong typography along with delicate, colourful graphic elements that will make your content stand out and keep your visitors happy.  The theme was designed with simplicity and flexibility in mind, both for the visitor and also for the editor. We've used the latest trends in responsive design using HTML5+CSS3+JavaScript, giving you a lightweight page size and pleasant browsing experience.

Flat design is definitely a hot trend as seen in Windows, Andriod, and even Apple's iOS7. Are you ready to dive in the flat trend? Flat – is perfect for you! Flat theme is beautiful, modern, bold and colorful. Modern web design is about interaction and technology. Flat theme utilized HTML5, Javascript, and CSS3 to display the content beautifully.
Revoke is a Premium WordPress Theme with clean and modern design, coupled with advanced features and powerful customization possibilities. By now, it is our most popular WordPress Theme. It's beautiful aesthetics and advanced functionality are the main reasons why so many users opt for it.
Revoke comprises a complete set of advanced features that will make your works stand out the crowd. It has awesome image sliders with smooth transition effects, 7 custom widgets, filterable and animated portfolio, built-in shortcodes, social media networks integration, AJAX contact form, Google Maps, Flick photostream and much more.
Design  Portfolio is a Premium WordPress Theme with clean, modern layout and powerful customization features. The template has a complete set of options to help you easily customize and set-up your website. Full width slider with amazing effects, filterable portfolio with many columns, built-in shortcodes, Flickr photostream, Twitter, Facebook, Google+ integration, AJAX contact form, Google Maps, are just a few of its unique features.
They've used the latest jQuery library, HTML5 and CSS3 to achieve awesome visual and transition effects. You can easily customize the images of the slider, their titles and descriptions.
PASSAGE is a multi-purpose retina-ready WordPress theme.  Coded in HTML5, CCS3 and jQuery, this skillfully constructed theme is 100% valid.  This one has so many features, it's really one of the best values I've ever seen in a WordPress theme.  There's nothing this theme can't do.
If you are looking for a Parallax WordPress theme that's something different and a maybe even surreal, check out the Surreal Studio – Responsive One Page Parallax Template. Surreal is a easy to use one page parallax template with lots of great features. It has been designed to make it easy to customize.
The Drops theme from ThemeSumo.com comes with a variety of useful features. This theme is perfect for a simple, responsive website. It's also great for blogging and sharing videos. All with lightweight code, made with HTML5 and SEO structured.
Impress is a single responsive portfolio WordPress theme using parallax effects. Perfect to promote your work or your business. Is compatible with all modern mobile devices. Other than the minimalistic single page design, it also has a blog page.
MINIMUM is a high quality professional WordPress theme for modern business or interactive creative use. Choose between 3 fluid AJAX animations, create unlimited Parallax pages, add unlimited sliders & slides to each page using four types of built-in sliders, take advantage of awesome Revolution Slider. Build you web site using our highly intuitive and friendly to use framework.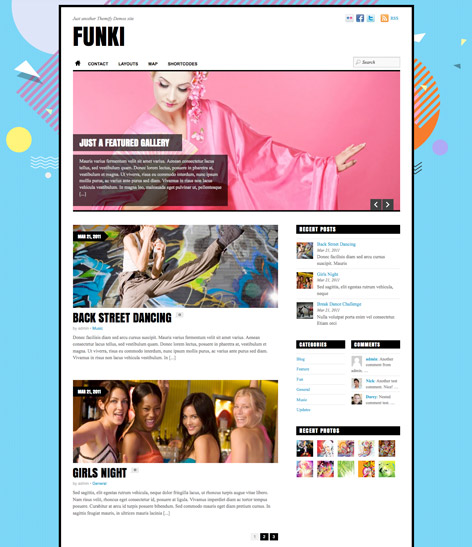 Funki is a responsive design theme with some artsy flare. The theme is coded with HTML5 techniques and has a responsive layout which is a combination of CSS3 and Javascript magic. Funki works on all modern browsers, mobile devices (iPhone, Blackberry, Android, etc.), and on any display resolution. On top of the great fluid design, we spent a huge amount of time building a number of customizable layout options (4-column, 3-column, 2-column, list view, thumb view, etc.). Funk up your site with Funki now!
HTML5 + CSS3 + jQuery, Fully responsive + retina display, Mobile first approach (to optimize bandwidth for smaller screens), SMOF admin panel and much much more.
Clean, beautiful, semantic and SEO optimized HTML5 and CSS3 markup. You get a feature-rich, light-weight, fast and responsive site that works perfectly in all major browsers and mobile devices.Showcase your creative works with Custom Portfolio post types. The portfolio page is smooth and sexy with jQuery pagination that scrolls your items without reloading the page.
Mingle is an amazing WordPress theme and it's BuddyPress ready! If you're not familiar with BuddyPress, it's a social network plugin for WordPress allowing your website to become a fully functional community portal. BuddyPress lets your users interract through groups, forums, friends, status updates, private messaging and a lot more.
And a lot more!
Cotton Candy theme for WordPress is built to support new HTML5 elements and syntax and progressively enhanced with CSS3 components for ultimate style. Cotton Candy provides Theme Options for a custom logo, custom favicon, custom patterns, custom link colors, custom link colors (hover, active), two layout choices, social links choices and tracking code for your Google Analytics code or other tracking code. Cotton Candy comes equipped with an Archives page template, Contact Form Template and Full Width Template and a different custom widgets. Support for featured images and special styles for 9 different post formats.
AXA is a Premium WordPress Theme with clean, minimalist design and a rich set of unique features, intended to expose your brand and works in a stylish manner.It has everything you need to represent your products or services in a professional way. We've build a whole set of elements to help you personalize your website's appearance and functionality: image slideshow with wonderful transition effects, filterable portfolio, Our Clients area, Youtube, Vimeo, Flick support, Google fonts, Google Maps, social media profiles and sharing (Twitter, Facebook, Google+): are just a few of them.