Do you own a bakery?  Or a doughnut shop?  Maybe you have a wedding cake business or a cupcake shop?  No matter what kind of business you run, if it's sweet and delightful, we've got a great WordPress theme for it.  Check out this collection of WordPress themes that would be absolutely perfect for a bakery or candy shop or whatever you need.  Each one of theme is responsive and packed with features to make running your blog easier than ever.
Pico – Food & Lifestyle Blog
Pico is a clean and elegant WordPress Theme with a focus on your content and was designed with Food/Health/Lifestyle Blogs in mind, but can be used for anyone who wants to have a beautiful blog site. Check It Out!
Black Riders Restaurant Theme With Lead Capture

BlackRiders theme is completely a restaurant WordPress theme.  The theme is very easy to use and gives an amazing look to your website but also grab leads for your restaurant or catering business. The theme comes with a Fullwidth slider on home page built with Lead Capture Form. You can easily grab leads for your restaurant business directly for your website. Black Riders is completely responsive and has various styling and color options.  That's tasty! Check It Out!
JustShop is the ultimate dessert and drinks related WordPress shopping theme.  JustShop is built for WooCommerce and features 5 distinct, beautiful and modern header styles, as well as 5 gorgeous color pallets, JustShop can be customized to your specific needs with incredible ease. You will truly find this end-user focused coding & design the 'icing on the cake' of this wordpress shopping theme for bakeries and food & drinks businesses. Using Ajax techniques for product loading and filtering, the JustShop Theme offers your visitors an extremely smooth shopping experience, and with the shop pages being styled for 2,3,4 or 5 columns, you can thoroughly customize the look & feel of your eCommerce website. Check It Out!
Zinc – is a multipurpose theme with plenty of features to cover up a large number of website types you can create with it. Zinc supports numerous features and website types such: Corporate, Shopping, Portfolio, Gallery, Blog, Magazine, Photography, Restaurant, etc. With its flexible layout builder you can create great and uniqe page layouts in seconds, build contact forms, maps, social networks and many many other supported elements. Check It Out!
Food Recipes is a feature rich and beautifully designed WordPress theme for recipes websites. This theme is perfect for professional Chefs and Cooking Experts. Food Recipe WordPress theme makes it very easy to share cooking knowledge with complete information and videos support. Check It Out!
FoodBlog is premium WordPress magazine theme for Food Bloggers & food websites. Every element of this theme is well crafted and makes your site look professional website and you get maximum exposure to your content. FoodBlog can also be used for lifestyle or General blogging website. Check It Out!
FoodMagz is a child theme of Backbone Theme Framework, specially designed for food bloggers, food junkies, restaurant bloggers or general food websites. Whether you are a new food blogger without a high budget or an experienced food blogger who value a user-friendly way to add, organize and display recipes. Check It Out!
Innov8tive offers 3 color combinations that highlight your content and presents a beautiful, clean, fresh looking home page that your readers will want to come back to again and again. This is a mobile responsive theme that additionally has a third custom menu designed specifically for you to tailor to the mobile user. Check It Out!
Foodie is a blogging theme with a focus on food. Whether you are a seasoned chef, or just getting comfortable in the kitchen, Foodie allows you to showcase and talk about your latest creations, or the art of food in general.  Restaurants?  Oh yeah, Foodie can handle that too. The built-in recipe builder makes it incredibly easy to share recipes with your readers. Just enter the ingredient and amount, and create beautiful lists in seconds. Sharing photos and videos has never been easier. Foodie helps showcase your beautiful food with huge post images and video embeds, sure to catch the reader's eye. Check It Out!
Dessert is a great new responsive theme for bakeries, dessert cafes, cupcakeries, and pastry chefs working out of their homes. Check It Out!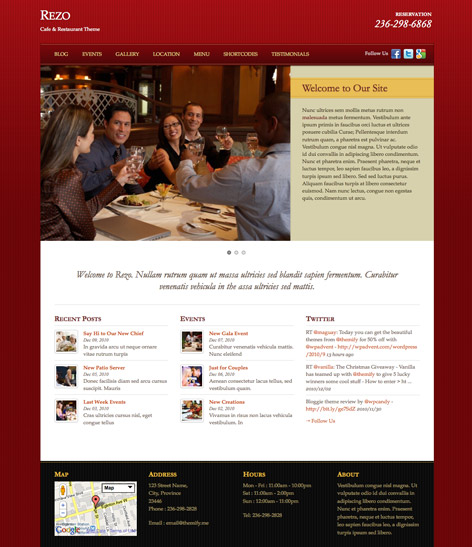 Rezo is a WordPress theme for cafe, bar, and restaurant based sites and blogs. It features a slick homepage slider to show off promotional content and photos along with a stylized "Menu" page with various layout options Rezo also includes the popular lightbox gallery that helps showcase event photos. Finally, Rezo is our first theme to feature Google Maps integration through shortcodes. You can add a map anywhere from a post, page, or within a widget area. Check It Out!

Cooker is great template excellent for restaurant, bar, pub or bistro. Clear code and perfectly organized in sets PSD files make everything clear and easy to find.  You can use it as a Blog; online store; to present your restaurant, pub or just to show your cooking skills to the world. Check It Out!
From typography to borders to spacing to buttons, everything in Handmade Two has had hours of attention poured into it. Tender loving care would be an understatement.  Best of all…Handmade is an eCommerce site too!  This is a perfect bakery theme, especially if you want to do some online sales.  Sweet!
By installing the massively popular
WooCommerce plugin
you can instantly turn your site into fully fledged eCommerce destination.
Sweet sassy molassy!  La Briendel is another amazing theme from BluChic, a truly great looking theme, packed with features to help make your website something special. Check It Out!
Your brand is sweet and savory, warm and delicious. So is our Magdalena Theme. Meaning cupcake in Spanish, the Magdalena WordPress Theme is chic for cupcake, food, and bakery shops as well as any other brand you just want to eat up. The color skins available are pink, blue, and mint pink. Check It Out!
This theme is perfect for girly blogs and really makes me want to eat cupcakes and blog about sewing things. The soft pastel color palette is a visually pleasing way to write and share about your hobbies and interests whatever they may be. Check It Out!