Tumblr Style WordPress Themes are still going strong.  I guess Tumblr has inspired a nation of folks who love that endless scroll and solid looking grid layout.  With good reason too, tumblog style themes are easy to manage, looks great whether you have a handful of posts or a million and it lets the reader really see what they're getting into before they click.  Perfect!  We've gathered a few of the best Tumblr style WordPress themes here and we're always looking for more.  If you spot one running around on the internet, let us know and we'll add it right here.  Thanks!
Reveal is a masonry style, fully packed portfolio theme with animated content panels, expanding content blocks, Full Screen Video Background, Full Screen Background Image Slideshow, Lightbox for Video and Image, SoundCloud Integration, Inline Video Embed, Re-usable content carousels and all the goodness and elements included in Bootstrap framework. The layout is built with ISOTOPE premium plugin and the base framework is Bootstrap 2.3 which is fully responsive. This theme is perfectly responsive and mobile optimized. We have tested it on major mobile devices including iPhone, iPad, Galaxy Tab2 & S3 on Android and Windows Phone.
With Dulce, it's all about versatility. The theme supports seven post formats, offers four color variations, boasts three options for gallery posts, provides an easy to use theme options, features a custom designed audio player and more. If you're interested in offering your readers a smart-looking, user-friendly, stylish, intuitive and creative driven blog, look no further.
Finch is a tumblog style WordPress theme with all post formats support. This theme have uniqueness in flexible background image.
tinyBlog is a Premium WordPress theme which uses the Wootumblog plugin to make your WordPress site behave like a Tumblr site.  This is a fast growing segment and we feel we have something great to offer. So we got to work converting one of our popular tumblr themes, micro.Inkdrop, into a fully fledged WordPress theme packed with all the Obox goodness.
Raffinade is a beatifully crafted and pixel perfect theme that takes full advantage of WordPress post formats. Quickly and easily publish your images, videos, galleries, quotes, links and more, hence it is an ideal option if your site needs to display different types of multimedia content
Notes is another awesome theme in the Post Format category. It allows you to use WordPress to post various post formats such as image, video, gallery, audio, quote, etc. like Tumblr blog. The theme design is inspired by the iPhone Notes app. It is a modern design theme with personal touches (light textured background and a bookmark ribbon). The layout is fluid and automatically adapted to any resolution on both desktop and mobile devices such as iPhone, iPad, Andriod, and Blackberry. To see this in action, view the demo and resize the browser window. See more responsive design themes.
Grido is a new Tumblr-like theme to join the responsive theme family (Tisa, Suco, Elemin, Funki, Minblr, Wumblr, and iTheme2). It is colorful, trendy, and stylish. The theme comes with 9 gradient backgrounds for you to style the post individually. You can choose a color scheme to reflect the mood of the post or select a different color for each post to make your blog look like a wall of sticky notes. The posts are automatically stacked on top of each other and automatically loaded when you hit to the bottom of the page. View the demo and resize the browser window to see how the posts re-stacked. If you like Grido, you may also like Wumblr and Elemin.
Candy is a responsive, timeline inspired tumblr theme build exclusively for sale at ThemeForest.  By using this theme, you can show your posts elegantly with a facebook like style. This theme provides support for all tumblr post types, custom pages, disqus commenting, twitter widget and many more!
Minblr is a minimal Tumblr-like theme for WordPress. The layout design is liquid and responsive. This means the layout flows nicely across any display resolution. Minblr is promised to delivery your content nicely in all major browsers (Chrome, Firefox, Safari, Internet Explorer, etc.) and most modern mobile devices. It has 3 layout options (default with sidebar, 2-column layout, and fullwidth with no sidebar). On top of all great features, there are 10 colorful skins. Minblr utilizes the brand new post formats, if your running WordPress 3.1 or greater, but we've made sure to add a fallback for older installs.
Botanic is fully responsive. Provide the best reading experience across all devices.Designed by a designer super-hero, your blog will feature a unique mouth watering look.Botanic supports all kinds of post formats, including Images, Galleries, Videos, Quotes, Links etc.Customize your website with the power of the CSSIgniter options panel.
Suco offers a stunning homepage design with a customizable slider, highlighted services/products, call-to-action text, and optional widgets. It is our first business theme that offers custom WordPress post formats and responsive layout. If you are not familiar with post formats, it allows you to associate a post type to each post such as: image, video, gallery, quote, etc. (pretty much like Tumblr). Designed with a great attention to details, Suco is a perfect theme that can be used as a business site, Tumblr-like blog, or just a static general site.
Making simple changes like logo, favicon, copyright and color styles with a few clicks of the mouse. couldn't be easier with our backend theme options.  Cool Tumblr/Tumblog style layout with endless scrolling.  Scroll all  day long babay!
A great Tumblr inspired theme with HomePage Builder, Responsive Design, Clean and Flexible,Unlimited Layer Sider, Advanced Options Panel, Multi level Drop-Down menu, Page Templates and more.
Say hi to our first ever Tumblr-esc WordPress theme. Make your WordPress installation look and feel like a Tumblr blog. 9 different post formats including 15 different color presets that help customize the look of each post. Along with 3 different column layouts for your pages this is definitely one of our best themes yet!
Elemin has great sense of typography, good white space balance, and minimal graphics. It is a piece of art crafted with modern technology — Google font, CSS3, Javascript and HTML5. WordPress post formats was incorporated which allows you to write about various post types such as photo, gallery, video, quote, etc. (very much like Tumblr). The design is completely fluid and responsive. This means the layout automatically adapts based on the user's viewport. The layout never breaks no matter of what screen resolution it is being viewed on. It works on all desktop and most mobile devices such as iPhone, iPad, Android, and Blackberry.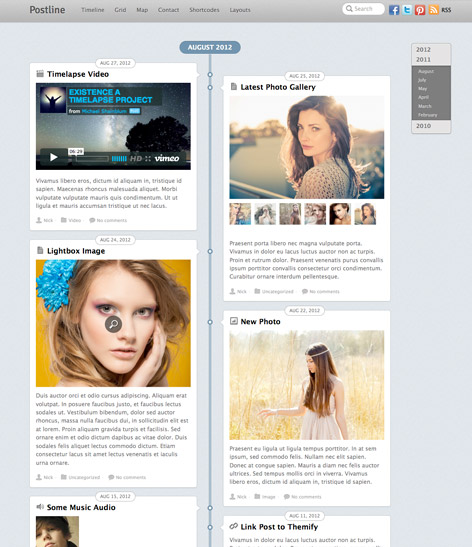 Inspired by Facebook's Timeline, Postline (view demo) is a responsive WordPress theme designed to capture different types of post formats like quotes, videos, images, galleries, and many more, allowing you to tell your story on any resolution, whether desktop or mobile device. In addition, Postline is built with infinite scrolling, meaning posts are loaded automatically when you hit the bottom of the page. For those who would rather not have the Timeline layout, the regular layouts are available such as 4-column, 3-column, 2-column, or list post.
Lucid is a clean, simple and minimalistic responsive blogging/personal WordPress theme which focus on content and readability. Supports 6 post formats let you create posts easily. It is super-duper fast and easy to setup, bundle with easy theme options and shortcodes plugin.

Circle is a Responsive WordPress Theme designed for multi purposes use. You can use it for Blog, Portfolio, Magazine or corporate web site.
If you don't see something perfect for your needs, there are always WordPress theme frameworks available to help construct a theme that's completely unique and perfectly fits the look and feel of the site you want to build.
Ones that I have personally used, and recommend, are:
Catalyst Theme Review by ThemePop – Even no coding experience, you can use Catalyst theme to build your own fully-functional and completely unique looking WordPress site from the ground up.   Perfect for really differentiating your site from any other WordPress site on the web.  Probably has the largest and best support community.
Genesis Framework Review by ThemePop  – The Genesis Framework lets you quickly and easily build incredible websites with WordPress.  Genesis sets itself apart by having no 'developer license' which means you get great support and unlimited features at a VERY reasonable price.  Also, probably the best security of any theme framework.
Pagelines Framework Review by ThemePop  – Use PageLines Drag & Drop Framework and WordPress to build professional websites faster, easier and better than ever before.  Pagelines has probably the best forum integration, so it's great for building an online community with WordPress.